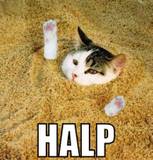 I need a tumblr blog. Anyways, this is how it went:
Me:
Stupid article is finally done – I'm handing it off tomorrow.
Sara:
That'll be nice. Then you can get on with your life.
(small pause)
Sara:
Can anything go wrong this time?
Me:
No. No way – we know everything now!
… And then I one-lined the main result in half an hour this morning. Will try to play the "other method more transparent" game :(